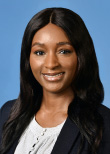 Dr. Lynda Nwabuobi grew up in Nigeria until the age of 12 when she moved to New York with her family. She earned her medical degree from NYU School of Medicine where she also completed her Neurology residency. She went on to complete a 2-year Movement Disorders fellowship at Columbia University.
Dr. Nwabuobi offers compassionate and personalized care in Movement Disorders including Parkinson's disease and parkinsonism, essential tremor, Huntington's disease, dystonia, facial spasm, tics and Tourette's syndrome, ataxia, gait disorders, chorea, restless leg syndrome, and myoclonus. She is also an experienced injector of botulinum toxin for movement disorders.
In her free time, Dr. Nwabuobi enjoys exploring DC museums, culinary scenes and cultural activities.